Pastoral care
As a high quality, faith-based school, our approach models the ideal environment for raising children – where they are a part of a caring community. Children's spiritual, emotional, physical and mental development will be supported by trained and experienced staff.
Support for Faith Practitioners
We will support and encourage the practice of faith. Specific provisions will exist which allow pupils of all backgrounds to practice their own faith. This will include specific provisions for initiated, practicing Sikhs (Amritdhari Sikhs) as well as ensuring appropriate provisions for practitioners of other faiths.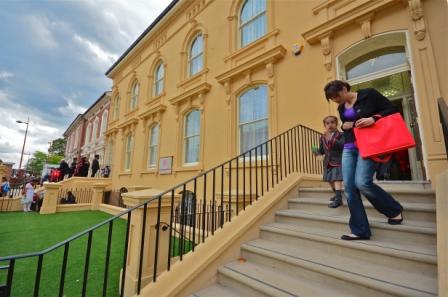 Child Protection and Wellbeing
A safe and secure environment is of paramount importance. You can be assured of your child's well-being by the practices we adopt at the Nishkam School. All our staff are fully trained in child safety and child protection practices, as well as First-Aid for children.
We operate a secure entrance system with video-linked intercom; only parents and staff are permitted to enter. All visitors are met at the door by a member of staff and escorted into the School if appropriate. All visitors must present a form of identity.
Child Protection and Safeguarding Children
Our first concern at all times is the safety and well-being of the children in our care. By law, we are required to follow recommended procedures for the reporting of suspected child abuse. Where a child's personal safety is concerned we may have to consult outside agencies such as Social Services as a legal responsibility before we speak to a parent.
Keeping in Contact
Your child's welfare is most important to us and it is essential that we are able to contact you at any time during school hours. Please provide the school with two or three up to date telephone numbers and please inform us if you change your mobile phone number.
Complaints and Concerns
We want every child to be happy and receive the best education and pastoral care possible. We hope that any concerns that arise can be resolved with your child's class teacher, however if you would prefer a discussion with the Head Teacher, then please arrange this through the school office. In the unlikely event of a concern is not resolved satisfactory, parents can write to the Chair of Governors at the school. The Governors' formal complaints policy is available from the school office.
Student Safeguarding & Welfare
We have a duty to 'safeguard and promote the welfare of children'. If you have any concerns about the health and safety of a child at this school or feel that something may be troubling them, you should share this information with an appropriate member of the school staff straight away. Some issues (e.g. a child's appearance, hygiene, general behaviour etc.) can be shared with a member of the Pastoral staff in school.

Do not worry that you may be reporting a matter which seems small – we would rather you tell us something which does turn out to be a minor issue than miss a worrying situation.

However, if you think the matter is very serious and may be related to a child protection issue, e.g. physical, sexual, emotional abuse or neglect, you must talk to the safeguarding team below as soon as possible. If you are unable to contact them, you can ask staff in the school office to locate them and ask that they speak to you urgently about a confidential urgent matter.

Any allegations or a disclosure involving a member of staff, a child's foster carer or a volunteer in the school must be reported directly to the Principal, unless it involves the Principal in which case it should be reported directly to the chair of the Governing Body Mr A Bhabra.
Thank you for supporting the young people of Nishkam High School.
Safeguarding Contacts in School
Ms. S Voutsinou Assistant Principal - Pastoral Lead & Designated Safeguarding Lead (DSL)
Mrs. E Butler LAC & Deputy Designated Safeguarding Lead (DDSL)
Mrs. K Kumar Pupil Achievement Manager & Deputy Designated Safeguarding Lead (DDSL)
Mr. K Hudson-Hill Pupil Achievement Manager & Deputy Designated Safeguarding Lead (DDSL)
Mrs B Sembi Pupil Achievement Manager & Deputy Designated Safeguarding Lead (DDSL)