Physical Education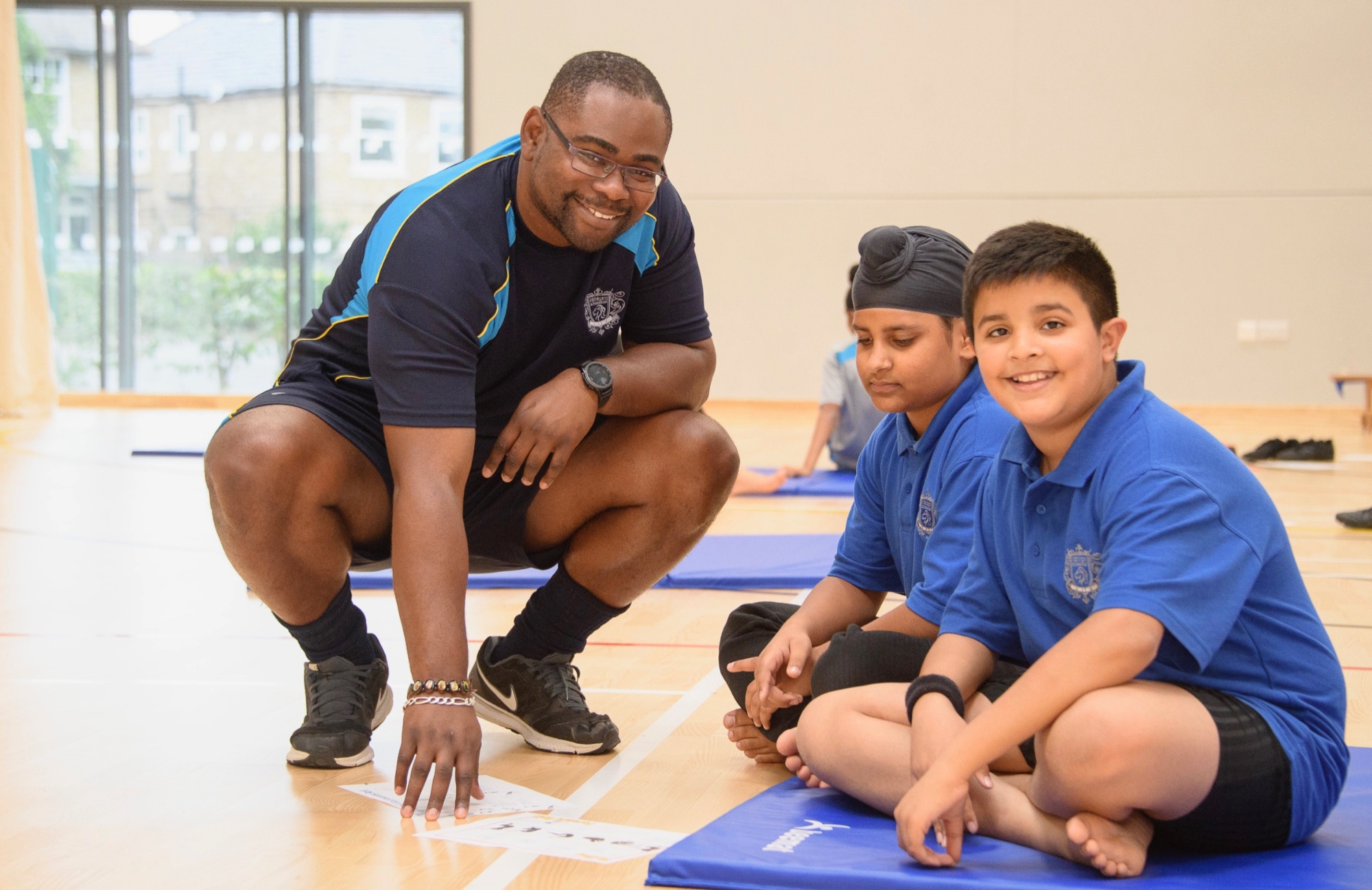 Please see below Curriculum Overview and I Can Statements for Physical Education (P.E)
Curriculum Overview Boys
Year 7

Year 8
Year 9

Autumn Term

First Half Term:

Gymnastics – Sequence, Movement, Vaulting, Travelling and Mirroring

Second Half Term:

Rugby (Invasion Games) – Rules, Passing and Tackling

First Half Term:

Gymnastics – Sequence, Movement, Vaulting, Travelling and Mirroring

Second Half Term:

Rugby (Invasion Games) – Rules, Passing and Tackling

First Half Term:

Trampolining – Movement, Jumping and landing

Second Half Term:

Basketball (Invasion Games) – Passing, Shooting, Dribbling and Rules

Spring Term

First Half Term:

Netball (Invasion Games) – Passing, Movement and Rules

Second Half Term:

Badminton (Net & Wall) – Rules and Shot Play

First Half Term:

Basketball (Invasion Games) – Passing, Shooting, Dribbling and Rules

Second Half Term -

Badminton (Net & Wall) – Rules and Shot Play

First Half Term:

Table tennis

Summer Half Term:

Badminton (Net & Wall) – Rules and Shot Play

Summer Term

First Half Term:

Athletics – Rules, Preparation for Sports Day, Track and Field

Second Half Term:

Cricket/Rounders (Striking and Fielding) – Catching, Fielding and Batting

First Half Term:

Athletics – Rules, Preparation for Sports Day, Track and Field

Second Half Term:

Boys Cricket (Striking and Fielding) – Catching, Fielding and Batting

First Half Term:

Athletics – Rules, Preparation for Sports Day, Track and Field

Second Half Term:

Cricket (Striking and Fielding) – Catching, Fielding, Batting and Umpiring
Curriculum Overview Girls
Year 7

Year 8
Year 9

Autumn Term

First Half Term:

Gymnastics – Sequence, Movement, Vaulting, Travelling and Mirroring

Second Half Term:

Rugby (Invasion Games) – Rules, Passing and Tackling

First Half Term:

Gymnastics – Sequence, Movement, Vaulting, Travelling and Mirroring

Second Half Term:

Netball (Invasion Games) – Passing, Movement and Rules

First Half Term:

Trampolining – Movement, Jumping

and landing

Second Half Term:

Netball (Invasion Games) – Passing, Movement and Rules

Spring Term

First Half Term:

Netball (Invasion Games) – Passing, Movement and Rules

Second Half Term:

Badminton (Net & Wall) – Rules and Shot Play

First Half Term:

Basketball (Invasion Games) – Passing, Shooting, Dribbling and Rules

Second Half Term:

Badminton (Net & Wall) – Rules and Shot Play

First Half Term:

Basketball (Invasion Games) – Passing, Shooting, Dribbling and Rules

Summer Half Term:

Badminton (Net & Wall) – Rules and Shot Play

Summer Term

First Half Term:

Athletics – Rules, Preparation for Sports Day, Track and Field

Second Half Term:

Rounders (Striking and Fielding) – Catching, Fielding and Batting

First Half Term:

Athletics – Rules, Preparation for Sports Day, Track and Field

Second Half Term:

Rounders (Striking and Fielding) – Catching, Fielding and Batting

First Half Term:

Athletics – Rules, Preparation for Sports Day, Track and Field

Second Half Term:

Rounders (Striking and Fielding) – Catching, Fielding and Batting
Year 7, Schemes of Learning
Athletics
| I can (Foundation)… | I can (Developing)... | I can (Secure)... | I can (Excellent)... |
| --- | --- | --- | --- |
| Understand different key words in Athletics | Describe how to run the 100m and 200m | Explain the technique of sprinting and identify the drive phase | Perform a sprint, using the correct technique and coming out in the top 3 in the class |
| Understand how to throw a discus | Be able to explain how to throw the discus | Explain and justify points of strengths and weakness their own technique (with the aid of resources) | Perform a throw, using the correct technique |
| Understand how to throw a Javelin | Be able to explain how to throw the Javelin | Explain and justify points of strengths and weakness their own technique (with the aid of resources) | Perform a throw, using the correct technique |
| Understand the different techniques of Long and triple jump | Explain the key points of long and triple jump and how they are different | Perform the long and triple jump in a closed situation | Demonstrate clearly the correct techniques when jumping. Identity strengths and weaknesses of other students |
| Perform each event (using the correct technique) | Develop their understanding of the different standards of athletics i.e Borough, County and National | Explain how to accurately replicate and perform in each event | Clearly perform in each event and continuously come in the top 3 |
Basket Ball
| I can (Foundation)… | I can (Developing)... | I can (Secure)... | I can (Excellent)... |
| --- | --- | --- | --- |
| Understand different key words in Basketball | Describe some of the key guidelines in basketball i.e. how many players are on a court? how long is a game? | Explain why basketball requires Cardiovascular Endurance and Agility | Perform basic skills in basketball i.e a shot, a pass and dribble. |
| Perform two types of passes in a close situation (either Chest, Bounce or Overhead). | Understand when to use each pass | Explain how you would use each pass to beat an opponent | Perform a technically correct and accurately replicate, the three different passes in an open situation. |
| Point out when travelling is happening in an open situation | Explain what travelling is and how can it be avoided. | | Perform a basketball match (small sided) without travelling/ Referee a basketball match and spot travelling. |
| Give one example of a defensive technique. | Understand how to put pressure on the opposite team via the man and the ball. | Explain how the rules and laws can help a team defend and what the benefits are. | Demonstrate clearly the correct techniques of defensive play (guard off the ball, guard on the ball) |
| Perform a shot, a dribble and a tackle in a closed situation (using the correct technique). | Develop their understanding of Basketball, including positional plays. | Explain how to accurately replicate and perform a dribble, a tackle and two different shots in basketball. | Clearly perform in a Basketball match (dribbling, tackling, Shooting and passing), under pressure. |
Gymnastics
I can (Foundation)…

I can (Developing)...

I can (Secure)...
I can (Excellent)...
Say the keywords in gymnastics
Describe in their own words the meaning of body tension and posture.

Understand and explain how to perform a balance.

Incorporate and justify the correct start, balances and finish into a performance

Name a key point of a roll

Understand the definition of a roll.

Explain the different rolls and turns and how they rotate around a given axes, and the names of the axes used in each of the 3 rolls covered. (Sagittal & Transverse).

Perform a technically correct forward, log and circle roll showing good body tension.

Point out what is flight

Understand 'flight' and the correct technique points as well.

Explain a variety of take-offs from the floor and from a springboard and know how to land safely and

Demonstrate the correct vaulting technique
Form and hold a variety of clear body shapes in the air.

Give an example of travelling

Understand different methods of travelling covered during the scheme and use them to travel onto, along, across, over the top of, underneath and off from, low apparatus.

Observe the work of other groups and offer positive and constructive feedback

Demonstrate mirroring in gymnastics, whilst justifying its use.

Perform a two-step sequence which is pre-prepared

Observe and appreciate the work of other groups and offer positive and constructive feedback.

Create a sequence with a partner based on and around the low apparatus.

Use the knowledge gained and understanding of the skills learnt to evaluate and analyse performance correctly
Netball
I can (Foundation)…

I can (Developing)...

I can (Secure)...
I can (Excellent)...

Understand different key words in Netball

Describe some of the key guildlines in Netballl i.e. how long each section is? Names of different areas on the court?

Explain the differences between Netball and Basketball

Perform basic skills in Netball i.e a shot, a pass and give knowledge of the different positions.

Understand what footwork is

Be able to spot when footwork happens in a closed situation.

Explain what happens in a game situation when footwork happens

Referee a game of Netball, and referee correctly the law of footwork.

Give one example of a defensive technique.

Understand different defensive positions on the court

Explain what defending is and how it can be used to beat the attacker
Perform a defensive drill within a game situation, where the defender beats the attacker

Understand the different positions in Netball and understand how to perform a shot

Explain what the different positions do in a game of Netball

Perform a shot in a closed situation

Demonstrate clearly the correct techniques of shooting in a game situation.

Be able to play a range of positions competently

Perform a shot and all passes in a closed situation (using the correct technique).

Develop their understanding of Netball, including different rules i.e. contact.

Explain how to accurately replicate and perform an attacking and defending play in Netball.
Clearly perform in a Netball match (Passing, defending, attacking and Shooting, under pressure).
Rugby
| I can (Foundation)… | I can (Developing)... | I can (Secure)... | I can (Excellent)... |
| --- | --- | --- | --- |
| Say the keywords in rugby | Describe in their own words the meaning of how to pass in rugby, using the correct technique. | Understand and explain how to pass in Rugby and to be able to accurately replicate and perform this technique. | Incorporate and justify the correct pass and give definitions of the laws that govern this method (passing). |
| Name a key point of passing | Understand how to pass in a game situation (under pressure) and explaining them. | Explain how to outwit opponents with passing and movement skills. | Perform a technically correct and accurately replicate, a catch and the lateral pass and understand the rules and laws regarding the pass and catching the ball. |
| Point out when a 2v1 happens in practice/game situations | Understand the different types of play to beat and outwit an opponent, and the benefit. | Explain what and why an overlap is important in rugby. | Perform basic attacking skills to beat and outwit a defender and use strategies and techniques to outwit opponents. |
| Give an example of what a tackle is | Understand how to tackle and have knowledge of the correct and safe way of tackling | Explain the rules and laws regarding tackling within the game. e.g. High tackling being illegal and dangerous | Demonstrate clearly the correct techniques of both the front and side tackles in static, moving and game situations. |
| Perform a static ruck | Develop their understanding, of how to perform a ruck play. | Explain how to accurately replicate and perform a ruck play, and the duties of the support players within these plays. | Clearly perform a ruck and regain possession, and to create a quick attacking play |
Year 8 Schemes of Learning
Boys' Gymnastics
| I can (Foundation)… | I can (Developing)... | I can (Secure)... | I can (Excellent)... |
| --- | --- | --- | --- |
| Understand different key words in Gymnastics | Describe what rotations and jumps are | Explain the technique of rotating and jumping, identify the key points | Perform a rotation and jump, using the correct technique and coming out in the top 3 in the class |
| Understand how to balance (individually and in a pair) | Be able to explain how to balance | Explain and justify points of strengths and weakness their own technique (with the aid of resources) | Perform several balances individual and in a pair, using the correct technique |
| Understand how to vault | Be able to explain how to vault | Explain and justify points of strengths and weakness their own technique (with the aid of resources) | Perform a vault, using the correct technique |
| Understand the different techniques of vaulting off a low apparatus | Explain the key points of vaulting off a low apparatus | Perform a vault in a closed situation | Demonstrate clearly the correct techniques when vaulting. Identity strengths and weaknesses of other students. |
| Understand the different techniques of vaulting off a high apparatus | Explain the key points of vaulting off a high apparatus | Perform a vault in a closed situation | Demonstrate clearly the correct techniques when vaulting. Identity strengths and weaknesses of other students. |
| Perform a vault of a high and low apparatus, with a balance (using the correct technique in a sequence). | Develop their understanding of the different standards of Gymnastics. | Explain how to accurately replicate and perform a vault (low and high) and an individual and paired balance. | Clearly perform each technique and continuously come in the top 3. |
Girls Gymnastics
| I can (Foundation)… | I can (Developing)... | I can (Secure)... | I can (Excellent)... |
| --- | --- | --- | --- |
| Understand different key words in Gymnastics | Describe what rotations and jumps are | Explain the technique of rotating and jumping, identify the key points | Perform a rotation and jump, using the correct technique and coming out in the top 3 in the class |
| Understand how to balance (individually and in a pair) | Be able to explain how to balance | Explain and justify points of strengths and weakness their own technique (with the aid of resources) | Perform several balances individual and in a pair, using the correct technique |
| Understand how to vault | Be able to explain how to vault | Explain and justify points of strengths and weakness their own technique (with the aid of resources) | Perform a vault, using the correct technique |
| Understand the different techniques of vaulting off a low apparatus | Explain the key points of vaulting off a low apparatus | Perform a vault in a closed situation | Demonstrate clearly the correct techniques when vaulting. Identity strengths and weaknesses of other students. |
| Understand the different techniques of vaulting off a high apparatus | Explain the key points of vaulting off a high apparatus | Perform a vault in a closed situation | Demonstrate clearly the correct techniques when vaulting. Identity strengths and weaknesses of other students. |
| Perform a vault of a high and low apparatus, with a balance (using the correct technique in a sequence). | Develop their understanding of the different standards of Gymnastics. | Explain how to accurately replicate and perform a vault (low and high) and an individual and paired balance. | Clearly perform each technique and continuously come in the top 3. |
Boys' Rugby
| I can (Foundation)… | I can (Developing)... | I can (Secure)... | I can (Excellent)... |
| --- | --- | --- | --- |
| Understand how to pass (using different passes) | Be able to explain how to pass (in an open and closed situation) | Explain and justify points of strengths and weakness their own technique (with the aid of resources) | Perform several passes (open and closed), using the correct technique |
| Understand how to tackle and Ruck | Be able to explain how to tackle and Ruck | Explain and justify points of strengths and weakness their own technique (with the aid of resources) | Perform a side on & front tackle and ruck using the correct technique |
| Understand the different ways of how to attack (in an open and closed situation) | Explain the key points of attacking | Perform an attacking set piece | Demonstrate clearly the correct techniques of attacking in an open situation. Identity strengths and weaknesses of other students. |
| Understand the different ways of how to defend (in an open and closed situation) | Explain the key points of defending | Perform a defensive set piece | Demonstrate clearly the correct techniques of defending in an open situation. Identity strengths and weaknesses of other students. |
| Perform a tackle, ruck and attacking and defensive set piece (using the correct technique). | Develop their understanding of the different standards of Rugby. | Explain how to accurately replicate and perform a tackle and a ruck. | Clearly perform each technique and continuously come in the top 3. |
Girls Netball
| I can (Foundation)… | I can (Developing)... | I can (Secure)... | I can (Excellent)... |
| --- | --- | --- | --- |
| Understand how to run into space | Describe how to notice where space is | Explain the technique of passing | Perform a pass (all three) in a closed coming out in the top 3 in the class |
| Understand how to develop a defensive position | Be able to explain the defensive stance | Explain and justify points of strengths and weakness their own positioning (with the aid of resources) | Perform several defensive tasks, using the correct technique |
| Understand spatial awareness of others | Be able to explain the need of spatial awareness | Explain and justify points of strengths and weakness their own spatial awareness (with the aid of resources) | Perform awareness of space tasks in a practice and game situations. |
| Understand the different techniques of observing and movement in game | Explain the key points of movement | Perform an observation and a movement task in a closed situation | Demonstrate clearly the correct techniques of movement in an open situation |
| Understand how to use basic patterns of play | Explain the key points of devising a basic pattern of play | Perform a pattern of play (closed) | Demonstrate clearly a pattern of play in an open situation, involving movement and passing |
| Perform a basic patterns of play, movement and passing in a closed situation (using the correct technique in a sequence). | Develop their understanding of the different standards of Netball. | Explain how to accurately replicate and perform movements, passing and patterns of play. | Clearly perform each technique and continuously come in the top 3. |