History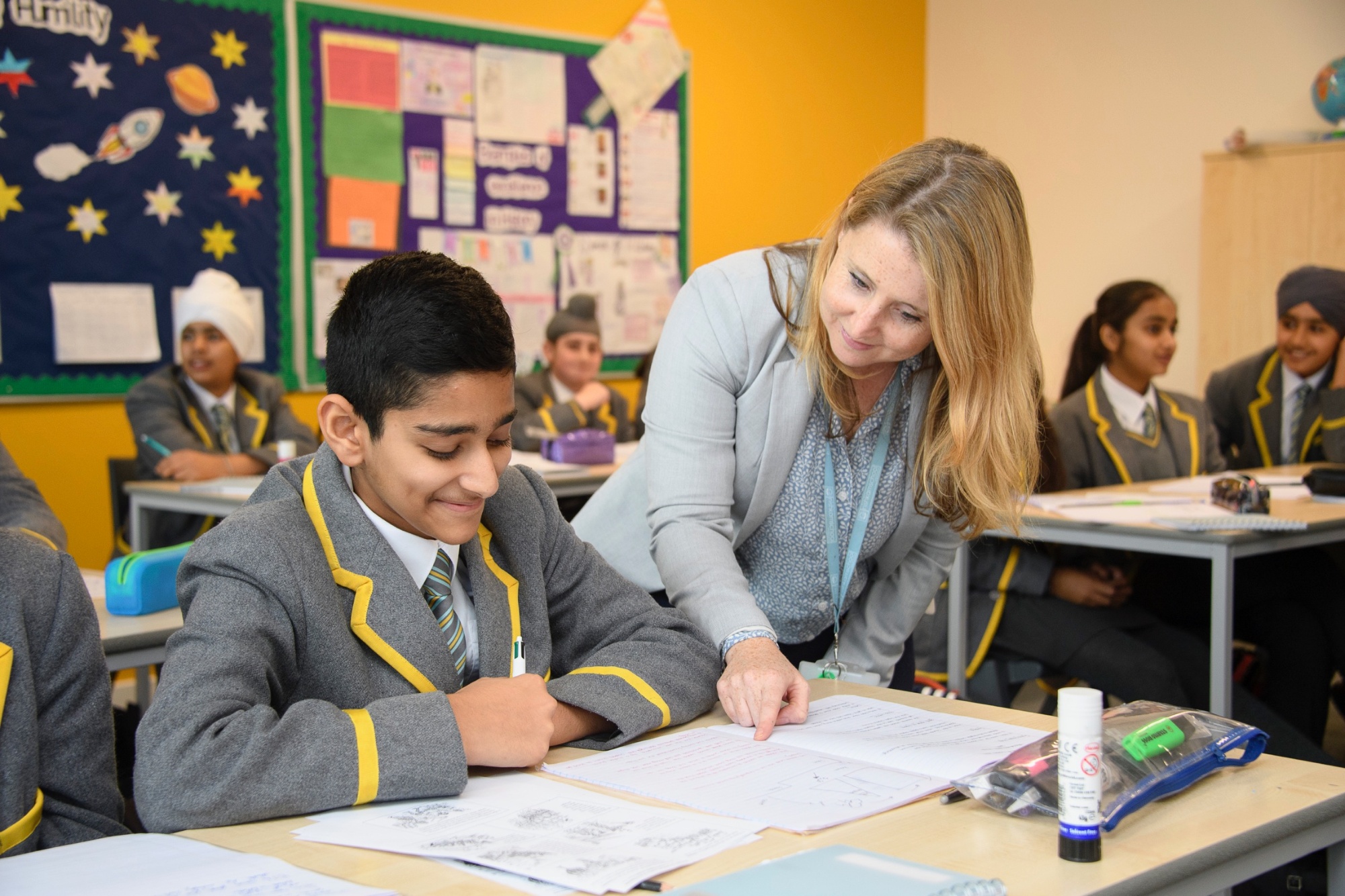 History Vision Statement
Studying History will develop and extend pupils' knowledge and understanding of specified key events, periods and societies in local, British, and wider world history; and of the wide diversity of human experience. History lessons will seek to engage pupils in historical enquiry, to develop them as independent learners and as critical and reflective thinkers. History will allow pupils to develop the ability to ask relevant questions about the past, to investigate issues critically and to make valid historical claims by using a range of sources in their historical context. History lessons will support pupils in developing an awareness of why people, events and developments have been accorded historical significance and how and why different interpretations have been constructed about them. History will empower pupils to continuously question why the world is the way it is and understand the mistakes that have been made in the past. It will spark a curiosity and help them to see that understanding the past will enable them to shape the future.
The model History pupil:
Be able to question, challenge and develop their own lines of enquiry
Have a developed sense of empathy and imagination
Make sense of the world around them by understanding the past
Offers unexpected insights
Is willing to search for new information and ideas
Has a broad range of general and historical knowledge
Can make imaginative links between the topics studied in multiple subject fields
Can discuss the significance of events, people and changes
Can use several sources simultaneously with confidence and perception, including complex and ambiguous ones.
Can communicate effectively in different forms
Has the ability to hypothesise; can make judgements and justify them.
Has a keen awareness of the characteristics of different historical periods.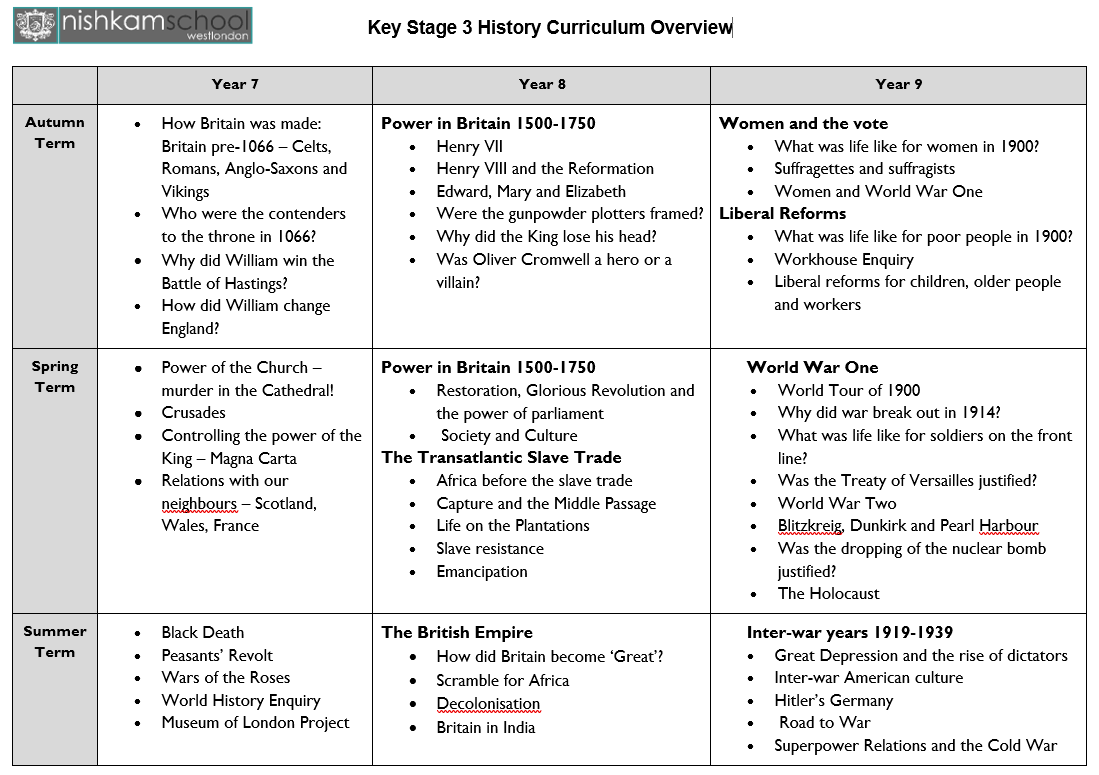 Year 7, Autumn Term
I can (Foundation)…

I can (Developing)...

I can (Secure)...
I can (Excellent)...

Recall some facts, describe people, events and places in the past

Describe and make simple comparisons between different people, events and periods

Describe the links between different features of the past and different times and places in the past

Explain the links between features of the past
List feelings of groups or people

List feelings of particular groups or people and describe how they link to their actions

Explain a range of causes which link to various people's actions.
Explain the most important cause of people's actions or lifestyles in different times and places

List change and continuity over a specific timeline

Describe change and continuity over a specific timeline
Describe the cause and effect of change and continuity over a specific timeline
Explain the cause and effects of change and continuity across a specific timeline

List reasons for the significance of an event, person or feature of the past

Describe some of the reasons for an event, person or feature of the past being significant

Explain the reasons for the significance of an event, person or feature of the past

Explain which factors you would consider in order to tell if something is significant

Use sources to answer questions about the past

1) Use sources explicitly (quotes/descriptions) to answer questions about the past

2) Describe different interpretations

1) Select relevant details from sources in your answers

2) Compare the evidence from different sources and compare different interpretations

1) Select and combine evidence from several sources to support answers

2) Compare sources content, reliability and usefulness

3) Explain reasons for different interpretations
Year 8, Autumn Term
I can (Foundation)…

I can (Developing)...

I can (Secure)...
I can (Excellent)...

Describe and make ​

simple comparisons ​

between different ​

people, events and periods

Describe the links between different features of the past and different times and ​

places in the past

Explain the​

links between ​

features of​

the past

Analyse different​

features of the past

Describe change ​

and continuity ​

over a specific timeline

Describe the cause and effect of change and continuity over a specific timeline
Explain the cause and effects of change and continuity across a specific timeline
Reach conclusions on the cause and effect of change and continuity across a specific timeline
Describe some of the reasons for an event person or feature of the past being significant​
Explain the reasons for the significance of an event, person or feature of the past​

Explain what you ​

need to look for to​

tell if something is significant

Use criteria to argue ​

the reason a past ​

feature, event or ​

person is significant

Use sources explicitly (quotes/descriptions) to answer questions about the past ​

​

Describe different interpretations​

​

Describe what a source suggests as well as says 

elect relevant details from sources in your answers​

 ​

Compare the evidence from different sources​

and compare​

different​

interpretations 

Select and combine evidence from several sources to support answers​

​

Compare sources ​

content, reliability and usefulness​

  ​

Explain reasons for different interpretations 

Explain why a source is or isn't useful or reliable​

 ​

Explain what the source suggests as well as says​

​

Identify criteria ​

for making a judgment on reliability of an interpretation