Science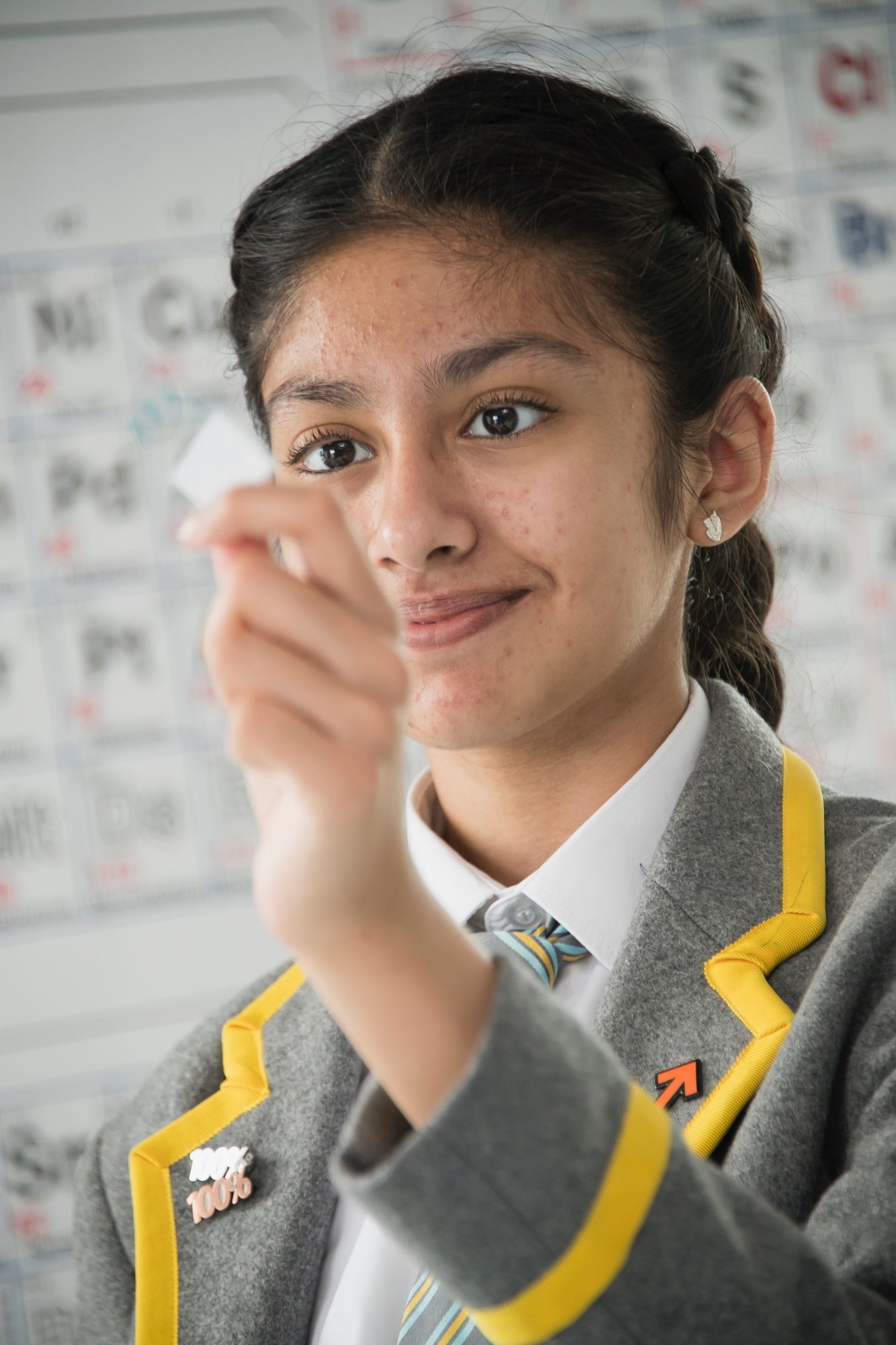 Please see below the curriculum overview and progression of skills map.
Curriculum Overview
Year 7

Year 8
Year 9 (GCSE)
Year 10 (GCSE)

Autumn Term 1

Particles and their behavior

Particle model and their behaviour
Atoms, elements and compounds
Separating techniques

Assessment- Interim assessment on Particles and their behaviour

Waves, Metals and Acids

Light
Sound and water waves
Chemical reactions with metals

Assessment- Interim assessment on light, sound and chemical reactions.

Cells and Atoms

B1 Cell Structure
B2 Cell division
C1 Atomic structure
C2 Periodic Table

Assessment- Interim assessment on B1, B2, C1, C2

Organisation in animals and diseases

B4 Organising animals and plants
B7 Noncommunicable disease
P1 Energy

Assessment- Some year 9 units and recent year 10 unit:

C1, C2, B1,B4, P1 and P2
Autumn Term 2

Organisms

Microscopes and cells
Structure and function of body systems
Cells and organs
Health and lifestyle digestive system

Assessment- KAT 1 on particle behaviour and Organisms

Reactions

Chemical reactions Formulae, Atoms, Decomposition, Endo/Exothermic reactions

Assessment- KAT 1 on waves and chemical reactions.

Molecules and Bonding

P6 Molecules & matter
C3 Structure & bonding

Assessment- KAT 1 on all units taught so far

Diseases and chemical changes

C5 Chemical Changes
B5 Communicable disease
B6 Preventing and treating diseases

Assessment- KAT 1 on all of Biology paper 1 units (B1-B9)

Spring Term 1

Organisms 2

Health and lifestyle drugs, alcohol and smoking
Reproduction in animals and plant

Assessments- Interim assessment on health and lifestyle

The Earth

Earth and atmosphere
The rock cycle
Climate change
The carbon cycle
Space

Assessment- Interim assessment on reactions and the earth

Reactions

C4 Chemical calculation
B3 Digestive system

Assessment- interim assessment on C4 and B3

Circuits and reaction rates

P4 Electric Circuits
C8 Rates of reaction

Assessment- Interim assessment on C5-C8 and P1-P4

Spring Term 2

Forces, Motion and pressure

Mass & weight
Gravity
Hooke's Law
Speed, distance, time

Assessment- KAT 2 on Reproduction, Forces and Motion

Ecosystems processes

Photosynthesis & respiration
Food chains
Adaptations

Assessment- KAT 2 on the Earth and ecosystems

Energy and motion

P2 Energy transfer by heating
P9 Motion

Assessment- KAT 2 on all units taught so far

Electricity and radioactivity

P5 Electricity in the home
C7 Energy Changes
P7 Radioactivity

Assessment- KAT 2 on all of Chemistry paper 1 units.

Summer Term 1

Electromagnets

Electricity circuits and resistance
Magnetism magnetic fields and electromagnets

Assessment- Interim assessment on Electromagnets

Energy

Energy transfers
Energy equations
Radiation
Energy and power

Assessment- Interim assessment on Energy

Bioenergetics

B8 Photosynthesis
B9 Respiration

Assessment- interim assessment on Bioenergetics

Coordination and control

B10 The human nervous system
B11 Hormonal coordination
C9 Crude oil and fuels
C10 Organic reactions
C11 Polymers

Assessment- Interim assessment
Summer Term 2

Periodic Table

Periodic table metals and non-metals, groups and periods
Acids & Alkalis
Metals and acids

Assessment- KAT 3 on all of year 7 units.

Evolution

Evolution & Inheritance
Required practical's
Skills
Practical perfection

Assessment- KAT 3 on all of year 8 units.

Waves

P12 Waves
P13 EM waves
Skills lessons

Assessment- KAT 3 on all units taught so far

Forces

P8 Forces in action
P10 Forces and Motion

KAT 3- combined paper on Biology, Chemistry and Physics
Year 7, Autumn Term, Progression of skills map - Science
Year 7
Year 8

Year 9

Year 10
Year 11
Over the course of each year

Keywords: usage and spelling
Recall basic knowledge and understanding of science.
Identifying different hazard symbols on chemicals/equipment
Graph drawing: identifying the type of graph that needs to be drawn.
Graph drawing: scaling the
Basic data analysis, identifying trends within data.
Identify health and safety risks with an experiment, based on equipment or substances used.
Planning experiments and identifying the variables: independent, dependent and control. Explain the importance of control variables.
Calculations from worded questions, or from graphs. Rearrangement of formulas to suit the question.

Keywords: usage and spelling
Recall a broad range of knowledge and understanding of science.
Rearrange formulas to calculate work or energy.
Can accurately make and record observations and measurements using decimal points.
Ask questions based on real world observations. Begin to apply their scientific knowledge to nature
Apply mathematical concepts and calculate results.

Keywords: usage and spelling.
Use of the keywords and better fluency in scientific language.
Recall basic knowledge and understanding of science. Using these as a foundation for the following years.
Identify trends in data from experiments, use of scientific language to explain these trends.
Make and record observations and measurements using a range of methods for different investigations.
Recording data and results of increasing complexity using scientific diagrams and labels, classification keys, tables, scatter graphs, bar and line graph

Evaluate the reliability of methods in detail.
Suggest further questions that may arise from results of investigations and data analysis and evaluation.
Understand that scientific theories can change and evolve with time. Describe why these theories have developed with time.
Explain the importance of peer review with scientific publications.
Evaluate data, showing awareness of potential sources of random and systematic error.
Identify further questions arising from their results

Apply scientific theory to produce a hypothesis for an experiment. Use of scientific language to explain if the hypothesis was correct, or not.
Make more complex and quantitative predictions using scientific knowledge and understanding
Question the methods, techniques or equipment to improve accuracy and precision.
Explain any anomalies or outliers within the data.

Practical skills

How to set up and view a sample under a microscope.
Know and undertake the method to observe onion cells under a microscope.
How to plan and complete an experiment that measures lung capacity.
Test different foods to identify the nutrients present in them.
Investigating the effect temperature and pH has on the activity of enzymes.
Heating curve experiment.
Which separation technique is effective for different mixtures: evaporation, filtration and chromatography, (to know the equipment used in distillation).
Use of newton meters to measure forces.
Investigate the relationship between force and extension for a spring.
Create circuits (series and parallel), and identify when a circuit may not work.
Drawing the magnetic field around a bar magnet using a compass.
Make an electromagnet and determine how to increase the strength of the magnetic force.
pH tests, to identify the colours of an acidic or alkaline solution.

Use of ray boxes, mirrors, prisms and using prior knowledge of circuits.
Calculate the relative formula mass of compounds.
Calculate the bond energy of a reaction.
Reacting metals with different substances ie oxygen, or acids, and knowing the products. Able to plan the experiment and identifying flaws that could be in the method.
Investigate the effect of light intensity of the rate of photosynthesis.
The effect of exercise on heart and breathing rate.

Investigate the effect of light intensity on the rate of photosynthesis using an aquatic organism such as pondweed.
Plan and carry out an investigation into the effect of a factor on human reaction time.
Measure the population size of a common species in a habitat. Use sampling techniques to investigate the effect of a factor on the distribution of this species.
Investigate the variables that affect temperature changes in reacting solutions such as, acid plus metals, acid plus carbonates, neutralisations, displacement of metals.
Use circuit diagrams to set up and check appropriate circuits to investigate the factors affecting the resistance of electrical circuits.
An investigation to determine the specific heat capacity of one or more materials.
Use appropriate apparatus to make and record the measurements needed to determine the densities of regular and irregular solid objects and liquids

Investigate the effect of a range of concentrations of salt or sugar solutions on the mass of plant tissue.
Investigate the effect of antiseptics or antibiotics on bacterial growth using agar plates and measuring zones of inhibition.
Investigate the effect of light or gravity on the growth of germinating seeds. Record results as both length measurements and as careful, labelled biological drawings to show the effects.
Preparation of a pure, dry sample of a soluble salt from an insoluble oxide or carbonate, using a Bunsen burner to heat dilute acid and a water bath or electric heater to evaporate the solution.
Investigate what happens when aqueous solutions are electrolysed using inert electrodes.
Investigate how changes in concentration affect the rates of reactions.
Analysis and purification of water samples from different sources, including pH, dissolved solids and distillation.
Higher tier: Determination of the reacting volumes of solutions of a strong acid and a strong alkali by titration.

Reproduce required practical's using the method and equipment. including recognising and controlling variables.
Explain the selection of equipment, for accuracy (ie. Specific equipment for measurement).
Recall the method used for each required practical. Identify techniques that would improve the results.