DfE invite Nishkam Schools to showcase literacy education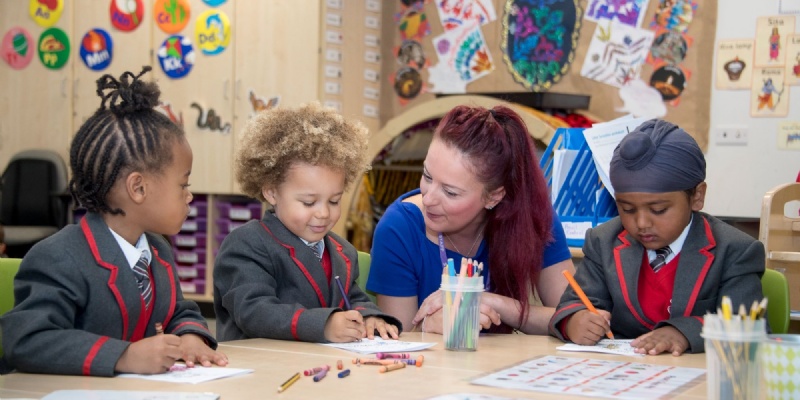 On the 3rd March 2022, staff and pupils from the Nishkam Schools Trust were delighted to be invited to do a virtual tour on World Book Day, highlighting the theme of literacy and reading, for DFE colleagues and the DFE Permanent Secretary, Susan Acland-Hood.
The first World Book Day in the UK and Ireland took place in 1997 to promote reading for fun. As World Book Day founder, Baroness Gail Rebuck, recalls "We wanted to do something to reposition reading and our message is the same today as it was then – that reading is fun, relevant, accessible, exciting, and has the power to transform lives."
However, reading is celebrated and prioritised every day at our Nishkam Schools, and we recognise that making sure children become engaged with reading as early as possible is one of the most important ways to make a difference to their life chances, whatever their socio-economic background. For this to happen we work tirelessly in ensuring our pupils learn to read fluently as soon as possible and continue to be motivated to read for pleasure across all areas of the curriculum. Our focus is always that no child will get left behind and every child can and will achieve.
So from the moment they join us in Reception, children are immersed in a language rich environment in Early Years and our early reading offer and systematic approach to phonics has ensured our children have achieved results above national for the last three years, despite the pandemic and lockdowns.
We know that reading in the Early Years underpins the entire curriculum and once a child can read, they are given a platform to access all areas of learning. So the earlier they are exposed the better. The importance of flooding young children with language is best explained below and is taken from the DFE document 'The Reading Framework' July 2021.
'By the time a child is 5 years old, a child that is never read to has 4,662 words; 1-2 times per week, 63,570 words; 3-5 times per week, 169,520 words; and five books a day, over a million 1,483,300 words'
Several pupils were chosen to take part. They spoke passionately and vociferously about their lives as Nishkam readers as well as Nishkam ambassadors. Our Reception representative, Aishatou, from Nishkam Primary School Wolverhampton, introduced DFE colleagues to a snapshot of our EYFS unit in action. She proudly showcased the Morning Report, a Phonics lesson and how reading is celebrated in child-initiated learning.
In Year 1, our pupils gave examples of how phonics works, how they change their books and why they love reading. Aviroop (age 6) stated 'I love reading, I read lots of books all the time and my favourite is Little Red Riding Hood.' In Lower Key Stage 2, colleagues heard from Aaron and Aniyah, who clearly articulated the importance of reading, how they track their own progress through Accelerated Reader and who their favourite authors were. Aniyah said that she loves the work of Jacqueline Wilson because 'the books allow you to have a good laugh and help you to see who is lucky and unlucky.' Aaron's favourite was J.K. Rowling because 'her books are just so fun and thrilling.' Our awe-inspiring Year 6 pupils shared their plans and aspirations for the future whilst tidying through the school library. Their passion was clear: Rayan wants to be a journalist and 'needs a great understanding of English to succeed in this because we live in England and English is one of the most used languages in the world. Also Reading is needed for other things, like Philosophy or History.' Also in Year 6, Ekhoeiyayi talked about the themes emerging in their text (Street Child) and how reading 'is preparing her for secondary school and the world outside.'
But at Nishkam we also provide frequent opportunities for structured talk in the classroom and oracy, the art of speech is a key part of any learning process. This was explained really well on the day by our Nishkam High School Birmingham students and staff and is underpinned by recent research, such as the EEF report on Improving Literacy in Secondary Schools.
Taking this research into consideration, we redesigned the curriculum in KS3 to ensure that the texts we teach will stretch and challenge our children. Our teaching philosophy at Nishkam is 'teach to the top' meaning that we have the highest expectations for and of our young people. With that, comes the unfaltering commitment to support those who may need some extra help with accurate assessment and an unwavering focus on closing any gaps.
By extending the amount of time we spend on the core texts we have been able to develop a more thematic approach to literature and literacy, allowing for greater development of thought and discussion around the key issues presented. The extended time also enables the core texts to be underpinned by other forms of text; poetry, drama and non-fiction.
This level of challenge is not confined to the English curriculum. Every subject has carefully considered the texts they use and work to ensure that they challenge, inform and inspire.
Bhajneek, in Year 8, says reading "develops me as a person. On my kindle, I highlight words and try to use these words in my writing. I use it as a vocabulary builder; what I read becomes the way I write."
Yusuf says that reading in Year 7 "is more challenging because the texts are different. I try to make links between my reading at primary school and what I'm reading now. The links help me figure out more about the topic such as war in War Horse."
Reading Shakespeare's Richard III in Year 8 can be a challenge but Bandhan says "everyone is quite eager to read aloud and so gradually we are getting used to the language and it helps us understand the characters and their emotions."
Modelling talk, particularly academic talk, is a regular part of our daily teaching practice as is verbal rehearsal and reciting answers. When pupils hear their teachers talk in an academic way, using academic language, they are more likely to emulate this in both their own speech and writing.
Karina, a Year 13 Student at NHSB studying A-Levels in English Literature, Religious Studies and Sociology says "the experience I had with literature throughout KS3 and in my GCSE studies has prepared me to be able to approach essays and extracts from different philosophers in a critical and analytical way. From the start of the A-Level course I was encouraged to develop my own interpretations and standpoints and using the language of virtues and the language of learning, I am able to confidently express my own thoughts and views and learn to communicate with a wide range of people in the school community."
Finally, at Nishkam we believe the secret of our success lies in our vision of being faith inspired, virtues led, aspiring for excellence. Every student at our Nishkam Schools have a unique opportunity to learn about virtues. These virtues are an extremely precious gift expressed through all faith traditions and each pupil is given a copy of our Nishkam Passport when they join our schools. This is the most important curriculum resource that forms the basis of our curriculum intent and is a special document that allows pupils to build self- responsibility and self-reflection. This was demonstrated beautifully for us during the visit by Keerat, one of our Year 4 pupils at Nishkam Primary School, Wolverhampton, when she used her Nishkam Passport to explain her views on the situation in Ukraine with her response and prayer. This was following her reading the page on Peacefulness in her NIshkam Passport.
God is with you, and he is by your side,
Try not to worry, there is no need to hide.
God will keep you safe, try your best to shine,
Together we will succeed and wipe away the grease and grime.
I pray to both Russia and Ukraine, none of them want the war,
Together we will ensure that harmony can be lived in once more.
Dear God, please answer my prayer.
Keerat Kaur, age 8