NSWL Opening Thanksgiving Ceremony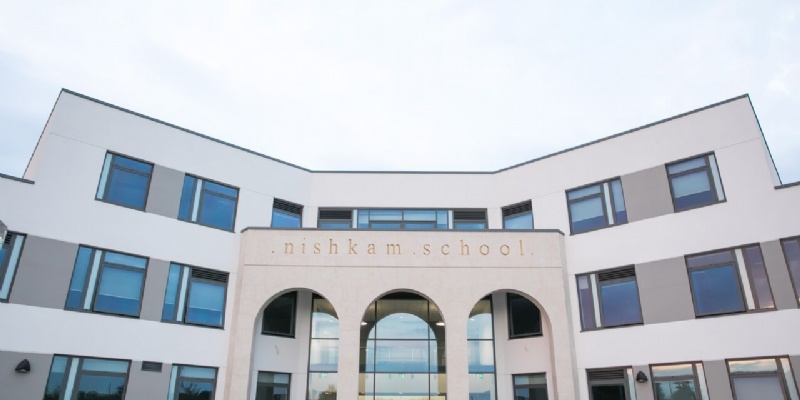 NSWL Opening Thanksgiving Ceremony
152 Syon Lane, Osterley. This is now the permanent home of Nishkam School West London (NSWL). Our journey began back in 2013 when it first opened in a derelict building on London road in Isleworth, not too far from the new school site. Since then, with the grace of the Almighty, NSWL, rated outstanding by Ofsted, moved to its permanent site. There have been many challenges on this journey, testing the resolve and resilience of those involved and strengthening the belief that actions born out of humility and selflessness will transverse those barriers we often struggle to overcome; age, religion, gender, appearance to name but a few. Having had to stay longer than expected in our temporary site, with the planning approval in hand, building work finally commenced in 2017. Few schools are fortunate enough to have such vast grounds to call home coupled with state of the art facilities creating an environment for teachers and children alike to prosper.
With its prominent school gates, a magnificent fountain at the centre of the school's main entrance and green gardens all around, it is very hard not to be genuinely in awe of the immense size of the school grounds and one can appreciate the eye for detail and the precision and quality when it comes to adding the finishing touches to each and every classroom. At the centre of the building lies an area which is used as a 'Faith space'. With its huge sky light and openness, it invites and also allows the children of all year groups to come together and share their values and virtues.
Whilst many parents and teachers would have been busy planning vacations and geta ways, the staff and pupils at NSWL were planning the much-talked about move to the new building. But before the big move could take place, part of these preparations included the opening Thanksgiving ceremony where the Sikh holy scriptures, the Sri Guru Granth Sahib Ji, arrived at the school for an Akhand Paath (continuous reading of the scriptures over forty-eight hours). The school, with its fresh new interior, was transformed into a spiritual place of worship. The school assembly hall and the 'Faith space' became the centre of attention.
The voluminous space was cleaned and prepared for the arrival of Sri Guru Granth Sahib Ji. Through volunteer efforts a stage was built and reams of fabric were draped all the way around to create a truly magnificent backdrop. Flower wreathes and bouquets lay with soft elegance and beauty. The bike sheds outside were converted into make believe kitchens where the 'Langar' (free, blessed food from the Guru's kitchen) was going to be prepared and a washing area was set up alongside too. The school diner served as a space for everyone from the congregation to sit together and enjoy the 'Langar'. Countless volunteers and sewadars travelled from far and near to be involved.
This three-day program brought families and friends together to enjoy taking part in something for the common good. One of the three halls housed an exhibition on forgiveness and the journey and achievements of Nishkam School Trust.
Alongside the forty-eight hour recital of the Sikh holy scriptures, workshops and activities were set up for children of all ages. The children enjoyed workshops based on the lessons learnt through our Guru's teachings but were also given the chance to reflect on these values and virtues that guide us in our spiritual journey.
For many, young and old, the three-day event proved to be challenging yet fulfilling. Many had only slept a few hours for the duration of the program yet, lack of sleep did nothing to stop the incredible flow of energy that could be felt and the willingness to go on doing 'Sewa' or selfless service.
With funding for the school building being stretched to its absolute limit, parts of the school grounds still needed further work. Through a tremendous volunteer effort from local residents, teachers, parents and the wider community, a huge area of neglected woodland was cleared. Approximately 30 tonnes of rubbish were removed in 10 days to provide over 3500 square meters of space for our children to add to their already amazing school.
Overcoming the many challenges witnessed throughout this journey makes one reflect on the presence of a higher authority, one which is forever forgiving and limitless in its wisdom and love. Because of this belief a Thanksgiving ceremony of this nature is a way to show both gratitude for the opportunities given to us but also recognise that such opportunities are born out of sacrifice, humility and compassion.
The final prayer or 'Ardas' bought together teachers, pupils, parents and the wider community. Silent prayers were answered and hopes for a prosperous future could be felt on the horizon. As a Catholic prayer was shared by our principal, it too, carried a message of love and prosperity. The concluding blessing from Sri Guru Granth Sahib Ji was a universal message; sending out peace and tranquillity and to remind us that each and every one of us is in control of our destiny.